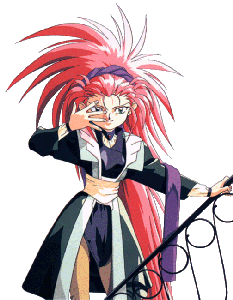 Of all the animations that are out there, Why Anime or Japanese Animation? Well, very good question, Batman, X-men, Scooby are all good, but they dont have the elements that Anime does, humor, general plot and story, thrill and action and most of all the great animation and drawing of the characters...
    Now please dont get e wrong, I like Batman, X-men and ect. too, i have nothing against them, but I prefer Japanimation over them...
    I am very well aware that there are a lot of Anime webpages out there, but this one i can call my very own and that only ANIME FAVORITES are added to the site which means that the webmaster doesnt try to include anime in which he/she dont even like amd that tries to include info amd resurces in which that are not even familiar to them, thats bad, its better to like a sereis or movie and express your toughts and comments on them on your own instead of doing a research on something you dont even like or unfamiliar with. ^_-
I hope you enjoy your stay and these are the anime, series, movies that are icluded
so far on the site, hopefully as my ANIME horizons go beyond its boundaries this site
                                                          would even grow more!!! THANKS FOR COMING and have fun! ^_^
---
Some of the sections may be big, some maybe small but all are full of resources and info...
The Sailor Moon Section formley known as Fred's Pretty Soldier Sailor Moon SIte, The Biggest among all of the other anime sites here, Info, Images, The ever popular Sailor Moon Multimedia Library, original WAV files, REAL Media and CD music recored and encoded at its best,  Inners Senshi, Outer Senshi's, Sailor Stars and even more, downloads, awards, links, SM tapes and movies, link submissions and even more! THe first page that started it all!
 
 
The Ranma 1/2 Section, One of my most favorite anime's of all time! This section pretty huge for the time it took me to build the entire page! complete with all the elements a good webpage needs to be called good, Multimedia, Original WAV's made by the webmaster himself and REAL Media as well, One of the largest Image Archives on the net and comprehensive OAV, TV series and series symopsis...
 
 
The Evangelion Image Archive, Who could not like Neon Genesis Evangelion, the story alone behind the conspiracy and the hitech technology involved in this anime is beyond imagination, this anime i have to admit is very well put together, not your average mobile or robot action series! This section is mainly an Image archive for the series[and movies], but contains links on the best webpages on your favorite characters and for the best and accurate info and synopsis.
 
 
The Ninja Scroll Section,::[CLOSED]:: One of the best Anime movies and my most favorite! Action packed, the story line and lightning samurai action trully shows the essence and the true quality of Japanese comic art! Thanks to Nightfalls Ninja Scroll for resources[Images and info.] Section contains information on the movies, facts, and multimedia, WAV's made by the webmaster, and links and webrings as well!
 
 
The Tenchi Muyo Section, Humor, action, pirates and princesses, just like the others, one of the best anime series out there, section includes The Tenchi Muyo Image Archive, info and synopsis on the series as well as the movies, Multimedia, originally made WAV files by the webmaster and not taken from other sites, downloads and more.
 
 
---

Questions? Feedback? Please post your Messages here!

<! -- Image map created by MapMaker32 -->
Hey! Asuka is calling yah! Sign the guestbook would yah!
This site © Copyright 1999, All graphic designs are made and edited by Tuxedo Kamen the webmaster, Individual characters and names owned by the respective owners with no relations to this site...Nothing is to be used, graphics, designs, ect. from this site with out consent of the webmaster...